Never Forget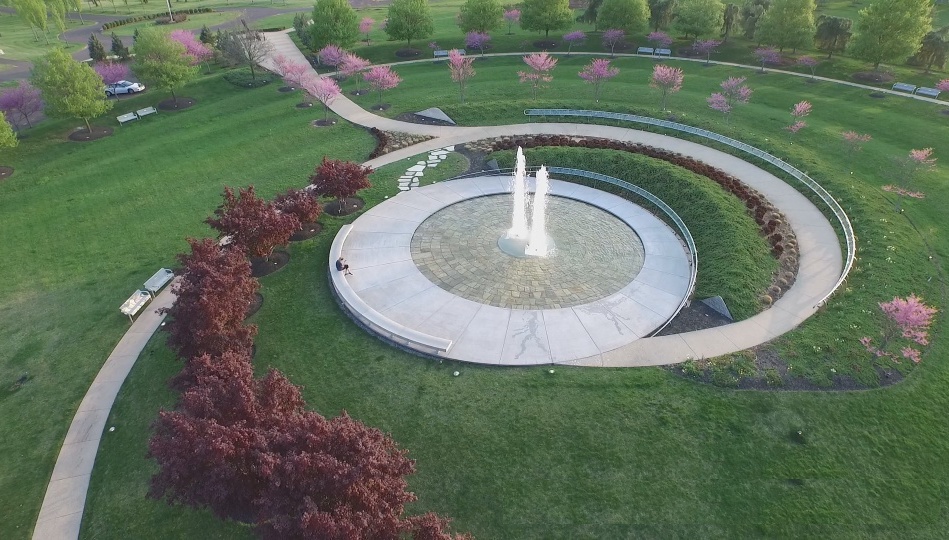 Local Yardley architect Liuba Lashchyk, AIA, designed The Garden of Reflection as a gathering place which invites us on a contemplative journey of Remembrance, Reflection and Healing. Liuba eloquently spoke of the Memorial Journey at the dedication ceremony on the 5th anniversary. "As you enter The Garden of Reflection through a tear shaped plaza, you re-live that dark day as you encounter a stark sculpture made of steel remnants from the World Trade Center, then continue on a path along the Remembrance Walk where the names of all 2,973 of our loved ones are etched in glass. This expanse of victim's names stands as a powerful testimony of the magnitude of the loss. The path takes you from those reminders of sorrow and grief to luminous symbols of hope, peace and celebration of life at the heart of the memorial, where dual fountains in an illuminated circular pool rise into the air, a metaphor for the twin towers and the soaring spirit of the victims. On the outer perimeter of The Garden and representing the eighteen victims from Bucks County, stand eighteen majestic maple trees along a walkway with forty-two small lights looking up to the heavens symbolizing the forty-two children in Pennsylvania who lost a parent that day. Our mission was to create a lasting place of beauty where all could come to reflect and hopefully heal our wounds." 
Founding Donors of the construction fund were recognized on a 20-foot long donor plaque at the entrance of the memorial proper.
Our fundraising efforts continue. For donations of $2,500 or more, your name as a proud supporter will be etched on additional Remembrance Fund donor plaques which will be prominently displayed at The Garden.
Your support has a lasting effect that honors the memory of the thousands that perished on that tragic day, while preserving the historic significance of the memorial in perpetuity. 
Your tax-deductible donation can be mailed to Garden of Reflection, 1460 Heather Circle, Yardley, PA, 19067 or you can donate at https://www.9-11memorialgarden.org/donate/. 
NEVER FORGET