Donors
Remembrance Fund Endowment Donors
With gratitude for your continued support to the 9-11 Memorial Garden of Reflection
In 2011 we established a 501(c)3 non-profit organization called The 9-11 Memorial Garden of Reflection, Inc. Since then, 100% of your tax-deductible donation support the "Remembrance Fund" endowment to preserve the memorial in perpetuity.
A target of $2 million has been established for the Remembrance Fund and we've already secured over $1.85 million, which is currently invested with a professional firm under a long-term capital appreciation strategy. Our goal is to fully fund the endowment by the 20th anniversary of the attacks on our nation. All donations over $2,500 will forever be remembered as proud supporters in establishing a self-sustaining memorial. 
When the Remembrance Fund is fully funded, earnings generated will provide for the ongoing operation and maintenance of The Garden without touching the principal balance. This will ensure that future generations are able to experience this powerful, moving and beautiful memorial as we do today. Many visit The Garden, coming from near and far, not only to remember 9-11 but also to process the grief and hardships in their own lives. In this way The Garden stands as an uplifting remembrance and beacon of hope for us ALL. It is incumbent upon OUR generation to provide the same experience for our children and grandchildren.
We hope you can join us in this noble cause.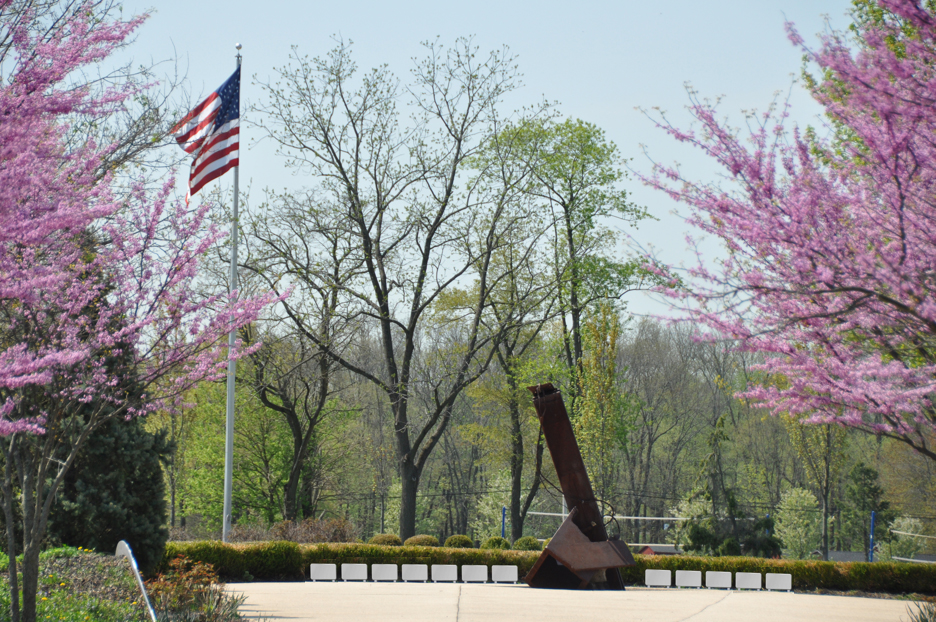 Proposed additional donor plaques will be installed in the forecourt entrance
We thank you for your continued support!
Founding Donors
Thousands of people contributed to the realization of The Garden of Reflection. Donations and grants were placed in the Lower Makefield Township Garden of Reflection construction fund since 2002 and covered costs of completing construction and ongoing maintenance over the years. The memorial was dedicated in 2006 for the 5th year anniversary of the attacks upon our nation.
Founding Donor Wall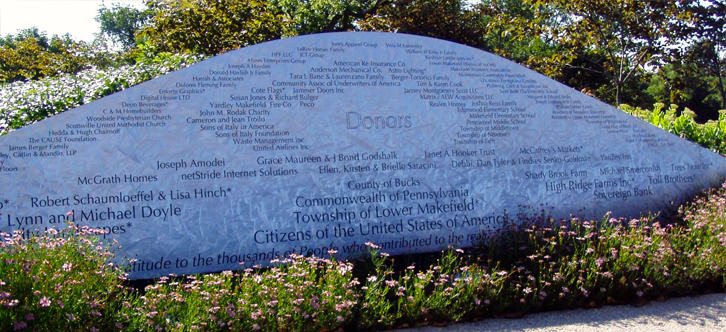 Founding Donors were recognized on this twenty foot long stainless steel plaque located at the Gateway Entrance of the Garden of Reflection.
A special thank you for the countless number of volunteers and efforts over the years.
*911 Remembrance Committee:
Valerie and Don Mihalek, Liuba Lashchyk, Patti Lovi, Beth McNamara, Karen Marquis, Sue & Joe Gagliardi and literally hundreds of others showing their yearly efforts
Golf Committee:
Ellen Saracini, Eric Stark, Jayne & John Orthendahl, Beth McNamara, Donna Kirn, Laura Carroll, Jim McCaffrey 
Lower Makefield Township Park N Rec Dept – Monica Tierney, Bob Copson and LMT Memorial Park staff
Lower Makefield Township Police Chief Ken Coluzzi and LMT police officers
"Remembrance Fund" Endowment Donors
*designates an in kind donation
$2,500 Endowment Level
Allied Pilots Association
Anthony Mazzarelli
Benevity
Bernadette & John Heenan
Bill & Ethel Brown
Brian McCloskey
Caro & Robert Rock
Central Bucks High School East
Community Association Underwriters
Cordasco Financial Network
Danielle & Charles Frost
Doylestown Maennerchor Society
Dr & Mrs Todd J Albert
*E&E Nursery
Elite Elevator Services
*Fernbrook Farm – Larry Kuser
Frank & Patty Lyons
First Partners Abstract Steve Wooldridge
Hines Enterprise Group
Hoffman, Michaels & Sternberg, LLC
Huntsworth Health North America
In Loving Memory of Carol M Baldwin
In Loving Memory of James J Baldwin
Janice Elwell 
Jill & John Petolillo
Jill & Paul Lauricella
John & Nancy Lyons
Karl Zoller
Kiwanis Club of Washinton Crossing & Yardley Foundation
Johnson & Johnson Matching Gift
LeRoy W Homer Jr Foundation
Linda & Scott Staropoli
Lisa & Steve Corr
Lower Makefield Business Association
* Mark Murphy
Marlin Taylor & Sarah Barnes
Metals USA Jim Urban
Mr & Mrs Richard K Barnhart
Newtown Racquetball Club
*Paradise Farms – Lothar and Herbert Ehrich
Parx Casino and Racing
Patricia & David Atkinson
Quarry Hill Elementary School
Raines Pool Service
Sara & Henry Webster
Sam Irvin & Taryn Capasso
Sarah & Henry Webster-Mellon
*Scott Lieb 
Sherry & Eric Stark
Snyder's Lance
Stephen & Jeannie Verdi In Honor of Victor Saracini
Sterling Volunteer Fire Company
The Ben Wiegand Family
Theresa & Joe Farace
United Way of Bucks County
Virgil Films Joe Amodei
Woodside Presbyterian Church
$5,000 Endowment Level
Artis Senior Living of Yardley
Bucks County Conference & Visitors Bureau
Congressman Brian Fitzpatrick
Diane & Pat Croce
Foundations Community Partnership
Fred Bean Charitable Fund
Friends of Rebecca & Tom Mellon
General Partition Company- Rick Houseman
Hedda and Hugh Chirnoff
In Memory of Bill Kelly Jr
Jaimie & David Field
Janney Lutschaunig Wealth Management
Jeff & Angie Coplan
Jill & Tom Durovsik
Marion Prochazka Charitable Fund
PECO
ReMax Properties – Jayne & John Ortendahl
Stephen Siller Tunnels To Towers
Susan & Joseph Gagliardi
Wells Fargo
$10,000 Endowment Level
Association of Flight Attendants Councils 6EWR, 9DEN, Phoenix, 21DCA, 27BOS, 42IAH, 63CLE
Families & Students of Makefield Elementary School
*Joe Brennan Productions
Recovery Centers of America
Makefield Elementary Families & Students
Patricia & Timothy Berger
Penn Community Bank
Shop Rite of Yardley & the Colalillo Family
St. Mary Medical Center
The Philadelphia Trust Company – Rich Sichel
*Tim Cook
$15,000 & $20,000 Endowment Level
Ana M Vegega
County of Bucks
Erik Hirsch & Margaret McAllister
Ebinger Iron Works
In Honor of Thomas E Mellon, Jr. Esquire
$25,000 Endowment Level
Bucks County Business Connections
Ellen Saracini Remembering Victor
*Enform Graphic Productions
Erich Bay Remembering Lorraine
Kathleen & Chip Brower
Lisa & Jim McCaffrey
*Liuba Laskchyk
Shady Brook Farm
*Third Dimension Printing
Thomas R Kline
Tracey & Shanin Specter
Yardley Inn & Michele Mohollen
McCaffrey's Markets
$50,000 Endowment Level
Janney Montgomery Scott, LLC Weckenman Family
Jeff Yass Susquehanna Foundation
Lavinia & Michael Smerconish
Tampkin Foundation
$100,000 Endowment Level
*Cheryl & Greg Tarallo 5K Run
Commonwealth of Pennsylvania  Senator Santarsiero
Porous Pave
$200,000 Endowment Level
United Airlines Employees Charitable Giving,  ALPA Pilots of United Airlines & the United MEC: Councils 5 NYC, 11 DCA, 12 ORD, 33 DEN, 34 SFO, 57 LAX, 93 DENTK, 171 IAH, 172 CLE, 173 GUM, 178 IAHPS and United Airlines
$300,000 Endowment Level
           Steven Singer 9-11 Never Forget Pins
Founding Donors
Donations of $750,000 plus

Citizens of the United States of America – Congressman Michael Fitzpatrick

Donations of $40,000 and up

Township of Lower Makefield*
Commonwealth of Pennsylvania
Friends of Lynn and Michael Doyle
High Ridge Farms Inc

Lower Makefield Township Police Dept – Ken Coluzzi

*Realty Landscapes*

Sovereign Bank
Toll Brothers

Donations of $ 20,000 and up

The Brickman Group*
County of Bucks
Ebinger Iron Works
Robert Schaumloeffel   Lisa Hinch*
Shady Brook Farm
Michael Smerconish
Trees Now Inc*

Donations of $10,000 and up

Joseph Amodei
Grace Maureen  &  J Bond Godshalk
Janet A Hooker Trust
McCaffrey's Markets*
McGrath Homes
netStride Internet Solutions
Ellen, Kirsten and Brielle Saracini
Debbi, Dan, Tyler, Lindsey Senko-Goldman
Yardley Inn

Donations of $5,000 and up

American Re-Insurance Company
Anderson Mechanical Company
Astro Lighting*
Tara L Bane and Laurenzano Family
Berger-Tortorici Family
Community Association of Underwriters of America
Tim and Karen Cook
Cote' Flags*
Jammer Doors Inc.
Janney Montgomery Scott, LLC
Susan Jones and Richard Bulger
Matrix /AEW Acquisitions LLC
Makefield Elementary School
Peco
Pennwood Middle School
Realen Homes
Joshua Reiss Family
John M Rodak Charity
Sons of Italy in America
Sons of Italy Foundation
Cameron and Jean Troilo
Township of Middletown
Township of Newtown
Township of Falls
United Airlines Inc
Waste Management Inc
Yardley Makefield Fire Company

Donations of $2,500 up

Applegate Wood Floors
Erich A Bay
Begley, Carlin and Mandio, LLP
James Berger Family
The CAUSE Foundation
Hedda and Hugh Chirnoff
Smithville United Methodist Church
Woodside Presbyterian Church
C M Homebuilders
Deon Beverages*
Digital House LTD
Enform Graphics*
Dolores Fleming Family
Harrah Associates
Donald Havlish Jr Family
Joseph A Hayden
Hines Enterprise Group
HPF, LLC
ICT Group
LeRoy Homer Family
Jones Apparel Group
Vera M Kaminsky
William H Kelly Jr Family
Kirshner Landscapes Inc*
Lower Makefield Historical Society
Makefield Women's Association
Middletown Community Foundation
O'Connor-Torregrossa Families
Pickering, Corts and Summerson, Inc
Saint Bede the Venerable School
Margaret   Edward Senko
Joseph Lostrangio Sr Family
William Steiner Family
Residents of Bensalem Township
Residents of Upper Makefield Township
Township of Wrightstown
United Way of Bucks County
Sesame Place
Verizon*
Wachovia Bank
Frank A Weckenman and Sons
YMCA Eric Stark*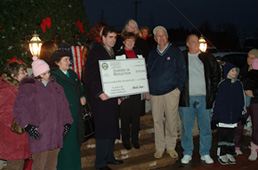 Congressman Michael Fitzpatrick presents a Federal Grant for $750,000 to complete the Garden in 2005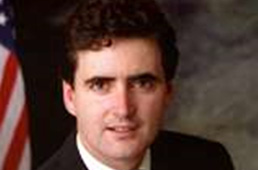 Congressman Michael Fitzpatrick 2006 secures a Federal Grant to complete memorial in time for the 5th year anniversary of the attacks on our nation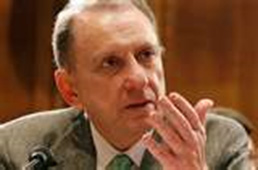 Senator Arlen Specter secures a Federal Grant for $89,600 engineering services in 2002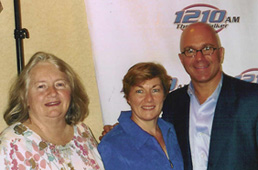 "The Big Talker" Mike Smerconish gave proceeds from his book "Flying Blind" to Garden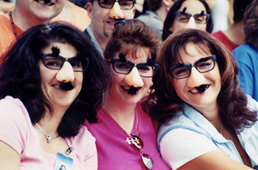 Pennsbury High School broke Guinness World Book record for longest time wearing Grocho Marks Glasses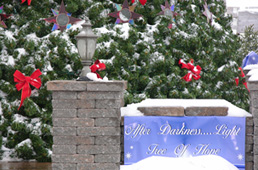 Shady Brook Farm donates proceeds from Tree of Hope Annual Christmas Celebration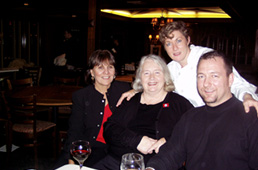 Yardley Inn has hosted 12 "Cooking with the Chef" Fundraisers to benefit The Garden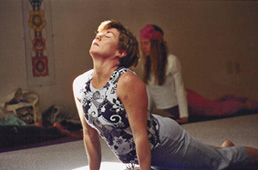 Khalsa Yoga Studio holds Yoga Thon fundraisers to benefit Garden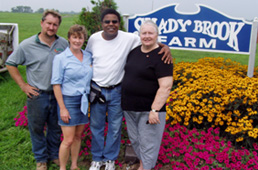 Tito Jackson and Dave Fleming host a concert at Shady Brook Farm
The first donation to the Garden of Reflection was a $5 bill. Every donation however small is greatly appreciated and will continue supporting the existence of the Garden of Reflection. We thank all our donors.