Donors
Friends of The Garden
With gratitude for your continued support to the 9-11 Memorial Garden of Reflection
In 2011 we established a 501(c)3 non profit organization called The 9-11 Memorial Garden of Reflection, Inc. Since then, 100% of your tax-deductible donation supports the "Remembrance Fund" endowment to preserve the memorial in perpetuity. We are forever grateful for the countless hours our dedicated volunteers give to make this possible.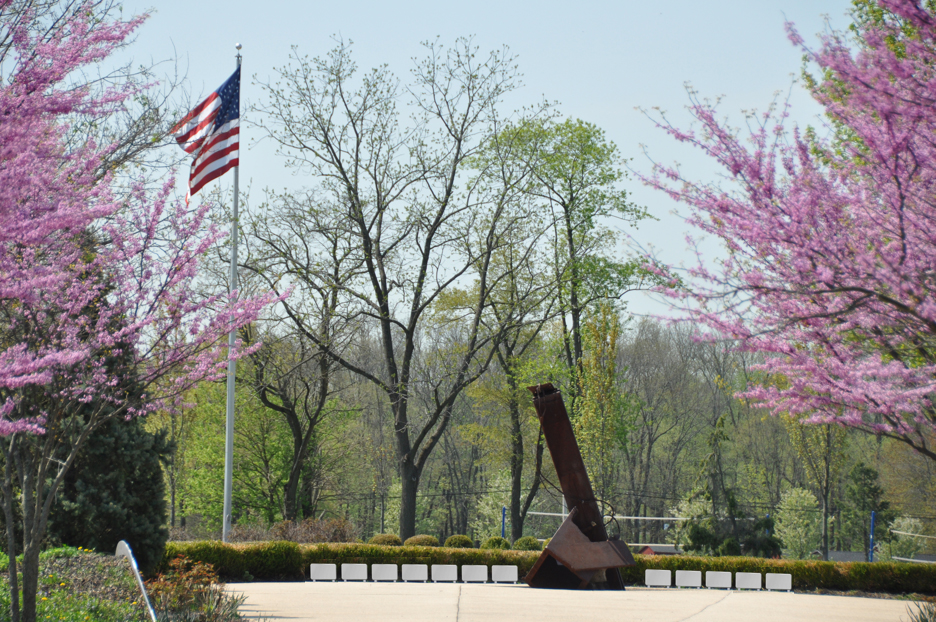 Proposed additional donor plaques will be installed in the forecourt for donations over $2500
We thank you for your continued support!
Founding Donors
With Gratitude to the thousands of people who contributed to the realization of The Garden of Reflection. Donations and grants were placed in the Lower Makefield Township Garden of Reflection construction fund since 2002 and covered costs of completing construction and ongoing maintenance over the years. 
Founding Donor Wall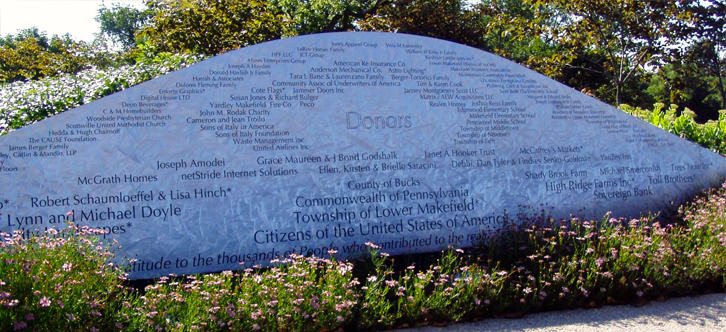 Founding Donors were recognized on this twenty foot long stainless steel plaque located at the Gateway Entrance of the Garden of Reflection.
Donations of $750,000 plus

Citizens of the United States of America – Congressman Michael Fitzpatrick

Donations of $40,000 and up

Township of Lower Makefield*
Commonwealth of Pennsylvania
Friends of Lynn and Michael Doyle
High Ridge Farms Inc*
Realty Landscapes*
Sovereign Bank
Toll Brothers*

Donations of $ 20,000 and up

The Brickman Group*
County of Bucks
Ebinger Iron Works
Robert Schaumloeffel   Lisa Hinch*
Shady Brook Farm
Michael Smerconish
Trees Now Inc*

Donations of $10,000 and up

Joseph Amodei
Grace Maureen   J Bond Godshalk
Janet A Hooker Trust
McCaffrey's Markets*
McGrath Homes
netStride Internet Solutions
Ellen, Kirsten   Brielle Saracini
Debbi, Dan, Tyler,   Lindsey Senko-Goldman
Yardley Inn

Donations of $5000 and up

American Re-Insurance Company
Anderson Mechanical Company
Astro Lighting*
Tara L Bane and Laurenzano Family
Berger-Tortorici Family
Community Association of Underwriters of America
Tim and Karen Cook
Cote' Flags*
Jammer Doors Inc.
Janney Montgomery Scott, LLC
Susan Jones and Richard Bulger
Matrix /AEW Acquisitions LLC
Makefield Elementary School
Peco
Pennwood Middle School
Realen Homes
Joshua Reiss Family
John M Rodak Charity
Sons of Italy in America
Sons of Italy Foundation
Cameron and Jean Troilo
Township of Middletown
Township of Newtown
Township of Falls
United Airlines Inc
Waste Management Inc
Yardley Makefield Fire Company

Donations of $2500 up

Applegate Wood Floors
Erich A Bay
Begley, Carlin and Mandio, LLP
James Berger Family
The CAUSE Foundation
Hedda and Hugh Chirnoff
Smithville United Methodist Church
Woodside Presbyterian Church
C M Homebuilders
Deon Beverages*
Digital House LTD
Enform Graphics*
Dolores Fleming Family
Harrah Associates
Donald Havlish Jr Family
Joseph A Hayden
Hines Enterprise Group
HPF, LLC
ICT Group
LeRoy Homer Family
Jones Apparel Group
Vera M Kaminsky
William H Kelly Jr Family
Kirshner Landscapes Inc*
Lower Makefield Historical Society
Makefield Women's Association
Middletown Community Foundation
O'Connor-Torregrossa Families
Pickering, Corts and Summerson, Inc
Saint Bede the Venerable School
Margaret   Edward Senko
Joseph Lostrangio Sr Family
William Steiner Family
Residents of Bensalem Township
Residents of Upper Makefield Township
Township of Wrightstown
United Way of Bucks County
Sesame Place
Verizon*
Wachovia Bank
Frank A Weckenman and Sons
YMCA Eric Stark*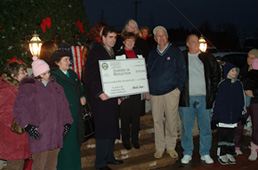 Congressman Michael Fitzpatrick presents a Federal Grant for $750,000 to complete the Garden in 2005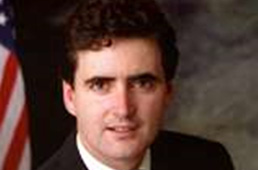 Congressman Michael Fitzpatrick 2006 secures a Federal Grant to complete memorial in time for the 5th year anniversary of the attacks on our nation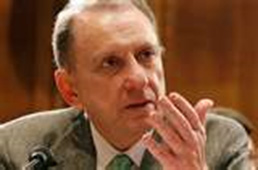 Senator Arlen Specter secures a Federal Grant for $89,600 engineering services in 2002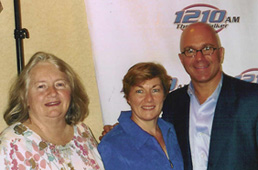 "The Big Talker" Mike Smerconish gave proceeds from his book "Flying Blind" to Garden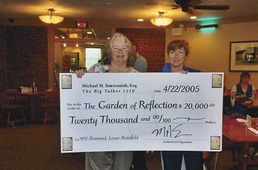 Grace and Ellen display a check for $20,000 as an initial donation from Mike Smerconish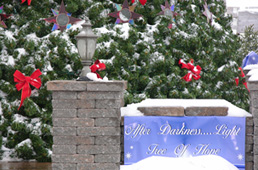 Shady Brook Farm donates proceeds from Tree of Hope Annual Christmas Celebration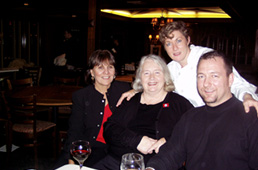 Yardley Inn has hosted 12 "Cooking with the Chef" Fundraisers to benefit The Garden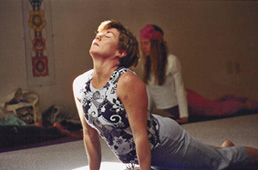 Khalsa Yoga Studio holds Yoga Thon fundraisers to benefit Garden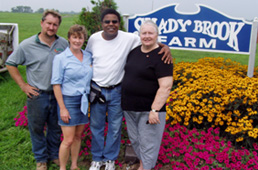 Tito Jackson and Dave Fleming host a concert at Shady Brook Farm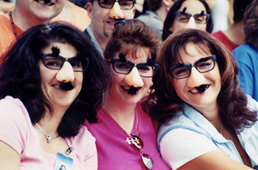 Pennsbury High School broke Guinness World Book record for longest time wearing Grocho Marks Glasses
The first donation to the Garden of Reflection was a $5 bill. Every donation however small is greatly appreciated and will continue supporting the existence of the Garden of Reflection. We thank all our donors.