The Oak Garden at Memorial Park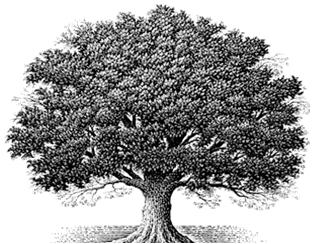 The Oak Garden was created as the first phase of a future Arboretum at Memorial Park in Lower Makefield Township.  It comprises approximately a two-acre area adjacent to the Garden of Reflection – 9/11 Memorial.  The arboretum offers the community an educational living museum and a passive recreational gathering area.
The Oak Tree was selected as the starter genus in the arboretum collection since it is the chosen symbol of the National tree of the United States. The oak is also known as a symbol of strength and endurance. The life span of oaks typically ranges from 200 to 600 years, with a few species reaching 1,000 years old.
Individual Oak tree species have been planted interspersed throughout the Arboretum, thus allowing for comparison of the characteristics of the species within the Oak genus.
C 2007 Design: Liuba Lashchyk, RA Architect
Design Development: Ellen Saracini, GOR Committee
---

Oak Species
at the Oak Garden Arboretum

A. Quercus rubra Northern Red Oak
Size: 75'h 60'w – Round,
Fall foliage: Shades of red
Soil condition: Drained to dry

B. Quercus palustris Pin Oak
Size: 70'h 25'w – Pyramidal
Fall foliage: Red to bronze
Soil Condition: Drained to moist

C. Quercus coccinea Scarlet Oak
Size: 75'h 40'w –Irregular crown
Fall foliage: Brilliant scarlet to red
Soil Condition: Drained, moist

D. Quercus macrocarpa Bur Oak
Size: 70'h 60'w – Oval to rounded
Fall foliage: Yellow to brown
Soil condition:: Drained to moist

E. Quercus Pringreen Green Pilar Pin Oak
Size: 50'h 12'w – Fastigiate
Fall foliage: Maroon/red
Soil condition: Drained to moist

F. Quercus phellos Willow Oak
Size: 60'h 30'w – Conical to round
Fall foliage: Yellow to yellow brown
Soil condition: Moist to well drained
Status: Endangered native

G. Quercus imbricaria Shingle Oak
Size: 65'h 50'w – Pyramidal to oval
Fall foliage: Yellow to russet
Soil condition: Moist to well drained

H. Quercus bicolor Swamp White Oak
Size: 50' h 50' w –Short trunk, rounded top
Fall foliage: Yellow
Soil condition: Moist, well drained
Status: Threatened Native

I. Quercus alba White Oak
Size: 75'h x 55' w – Oval to rounded
Fall foliage: Brown to wine
Soil condition: Well drained, fertile
---
Acknowledgments
We always appreciate the ever-present support and the endless dedication of Liuba Lashchyk, architect, with her inspiring and uplifting contribution to our community. Thru her vision we now have a special place of transition between the active areas of Memorial Park and the Garden of Reflection. We also appreciate Ellen Saracini for her passion and continued dedication to insure the realization of the Oak Garden.
We are thankful for the support and assistance of the Lower Makefield Park & Recreation Board; Donna Liney, Director Park & Recreation; Members of the Lower Makefield Township Board of Supervisors; Grace Godshalk, Supervisor and township liaison and through the guidance of Lower Makefield Township manager Terry Fedorchak.
The implementation of the Oak Garden was realized through the generous contributions of numerous community members.  We owe a special tribute of gratitude and appreciation to the following donors:
Mr. Ivan Olinsky, President of Princeton Nurseries, who donated 98 trees
Linda Burkhardt, manager of Feeneys Nurseries, Daniel Fest of Coles Nursery and                                                                                            Kevin Fenning of E & E Nurseries who donated evergreen and deciduous trees  
Dave Fleming and Shady Brook Farm who donated 58 flowering trees.
Cliff Grier of Realty Landscaping for his contribution of the berm construction.
Volunteers from Brickman Group under the leadership of Scott Lieb and Kevin Jakim who planted the trees.
Marrazzo Landscaping who donated labor for planting trees.
Dave Potter of Hanes and Kibblehouse who donated all the stone for the walkways. 
We appreciate the individual timely help of Gina Waltersdorff and Dan Knots, Electrical.  In addition, we are grateful to William Tamburro, RLA for his most helpful comments on the design and to the LMT EAC for their contribution in reviewing the design concept.